Amlodipine Aspartate Tablets
---
Hypertension can be treated alone or in combination with other antihypertensive drugs.
---
Date of approval:
2006
Year
10
Month
23
Day
Date modified:
Year
Month
Day
Instructions for Amlodipine Aspartate Tablets
Please read the instructions carefully and use them under the guidance of a physician.
Generic Name: Amlodipine Aspartate Tablets
English name:
Aspartic acid Amlodipine Tablets
Chinese Pinyin:
An Suan Lu Di knit men's watch
[Ingredients] The main ingredients of this product are
L-
Amlodipine aspartate
Chemical Name:
2
-
[2
-Aminoethoxy
]
Methyl]]-
4
-
(
2
-Chlorophenyl
)
-
1
,
4
-Dihydrogen
-6-
Methyl pyridine-
3
,
5
-dicarboxylic acid
-3-
Ethyl ester-
5
-Methyl ester
L
-Aspartate.
Chemical structural formula: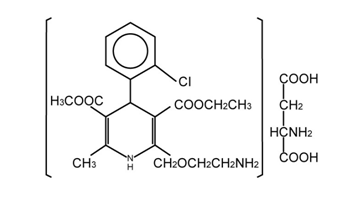 Molecular formula:
C
20
H
25
CIN
2
0
5
·C
4
H
7
N0
4
[Sex
This product is white or almost white.
[indications] can be alone or in combination with other antihypertensive drugs in the treatment of hypertension.
[Gauge
Lattice] each piece
5mg
(
As per amlodipine
)
Usually the initial dose is
5mg
(
a piece
)
One day.
1
times, but the initial dose can be
2.5mg
(
half piece
)
One day.
1
Times. Dose adjustment should be based on the clinical response of the individual patient, with the maximum dose being increased
10mg
(
two pieces
)
One day.
1
Times. This product and thiazide diuretics,
β
There is no need to adjust the dose of a receptor blocker and an angiotensin converting enzyme inhibitor.
[Adverse reactions] The more common adverse reactions were headache, edema, fatigue, insomnia, nausea, abdominal pain, flushing, palpitations and dizziness. Less common adverse reactions are angina, hypotension, bradycardia, orthostatic hypotension, pruritus, rash, dyspnea, weakness, muscle cramps, and dyspepsia. This product is similar to other calcium antagonists, there are few reports of adverse reactions of myocardial infarction and chest pain, and these adverse reactions can not be clearly distinguished from the patient's own underlying disease; no abnormal laboratory parameters related to this product have been found.
[Forbidden
Avoid] patients allergic to dihydropyridine calcium antagonists are prohibited.
l
Patients with impaired liver function: Like all other calcium blockers, the half-life of this product is prolonged when liver function is impaired, but the corresponding recommend dose has not been determined. Therefore, this product should be used with great care in this case.
2
Renal failure patients: this product is widely metabolized to inactive metabolites, only
10
% of the drug is excreted in the urine in the original form, so the change of blood concentration is not related to the degree of renal damage, and the patients with renal damage can use normal dose. This product is not dialysis.
3
This product, such as other calcium ion blockers, can be rare gingival hyperplasia, more in the treatment
1-9
Occurs in months, but after discontinuation
l-21
Week symptoms and hyperplasia may improve.
4
There is no need to stop the drug before surgery, but the anesthesiologist must know to treat with this drug.
5
The following conditions are disabled:
②
Stenosis of the aortic valve.
The safety of this product for pregnant and lactating women has not been established. This product is given to rats in animal tests.
10mg
/
kg
, in addition to causing delayed delivery and prolonged labor, increased intrauterine deaths
5
Times, the number of litters in the same litter decreases
50
%. Therefore, this product can only be used when there is no other safer alternative drug and the disease itself is more dangerous to mother and child. There are no reports on whether this product is discharged into milk.
[Children's medication] There is no information on the use of this product in children.
[Elderly Medication] The peak time of blood drug concentration of this product is similar in elderly and young patients, and the area under the drug time curve of elderly patients
(
AUC
)
The elimination half-life is prolonged, so that the clearance rate has a downward trend. It has been reported that older patients were as well tolerated as younger patients when receiving similar doses of amlodipine. Therefore, the elderly patients can use the normal dose, but it is advisable to start with a smaller dose, and then gradually increase the appropriate.
(
1
)
Anesthetics: Inhalation of hydrocarbons with this product may cause hypotension.
(
2
)
Non-steroidal anti-inflammatory drugs, especially indomethacin: used with this product can reduce the hypotensive effect, may be related to the inhibition of prostaglandin synthesis and
(
or
)
Caused by water, sodium retention.
(
3
)
β
A receptor blocker: with this product is well tolerated, but can cause excessive hypotension, rare cases can increase the possibility of congestive heart failure.
(
4
)
Estrogen: Use with this product can increase fluid retention and increase blood pressure.
(
5
)
Sulfopyrone
(
sulfinpyrazone
)
The combination with this product can increase the protein binding rate of amlodipine and change the blood concentration.
(
6
)
Lithium preparations: used with this product can cause neurotoxicity, manifested by nausea, vomiting, diarrhea, ataxia, tremor and
(
or
)
Numbness, must be applied with caution.
(
7
)
Sympathomimetic amines may attenuate the hypotensive effect of this product.
[Overdose] Existing data suggest that severe overdose can lead to excessive dilatation of peripheral blood vessels, followed by significant and lasting systemic hypotension, bradycardia, and rare
II
or
III
degree atrioventricular block, a few patients may have cardiac arrest. The former should be given intravenous dopamine, norepinephrine treatment. The latter should be given atropine, isopropyl kidney, calcium chloride treatment, if there are indications should be placed pacemaker.
pharmacology and toxicology]
This product is a calcium ion internal flow blocker
(
That is, calcium channel blockers or calcium antagonists
)
It can selectively inhibit the flow of calcium ions into vascular smooth muscle and myocardial cells, especially for vascular smooth muscle. This product reduces peripheral resistance by directly relaxing vascular smooth muscle and dilating peripheral arterioles.
(
After load
)
and can significantly dilate the coronary arteries. This product has a negative inotropic effect in vivo, but has no effect on the sinoatrial node and atrioventricular node.
Acute toxicity in mice:
Aspartate amlodipine raw material medicine intragastric administration
LD
50
For
80.2mg
/
kg
(
95
The% confidence limit is
71.3-90.2mg
/
kg
)
; Intraperitoneal injection
LD
50
For
62.1mg
/
kg
(
95
The% confidence limit is
55.0-70.1mg
/
kg
)
.
Genotoxicity: Mutagenic test results show that there is no drug-related gene or chromosome level mutagenic effect.
Reproductive toxicity: general reproductive toxicity test, oral amlodipine in rats
10mg
/
kg
/day
(
Based on body surface area, approximately the maximum recommended human dose
lOmg
of
8
Times
)
No harm to fertility. Oral administration of amlodipine during organogenesis in pregnant rats and rabbits
lOmg
/
kg
(
Based on body surface area, approximately the maximum recommended human dose
lOmg
of
8
times and
23
Times
)
No teratogenic effect on the embryo. But before the rat copulates
14
Oral amlodipine during the day and pregnancy
10mg
/
kg
, the number of pups in the same litter decreased significantly
(
About
50
%
)
Significant increase in intrauterine deaths
(
About
5
Times
)
It can also prolong pregnancy and labor. Adequate and well-controlled trials have not been conducted in pregnant women, so pregnant women should only take this product during pregnancy when their potential benefits are large and potentially dangerous to the fetus.
It is not clear whether this product is excreted in human milk, in view of the lack of information in this regard, it is recommended to stop lactation.
Carcinogenicity: Two-year carcinogenic test of amlodipine in rats and mice, mixed dose
0.5
,
1.25
, and
2.5mg/kg
/daily non-carcinogenic, its highest dose
(
Mouse Dose and Maximum recommend Clinical Dose by Body Surface Area
10mg
equivalent, while the rat dose was its
2
Times
)
Close to the maximum tolerance of mice.
[Pharmacokinetics] The literature reported that this product is well absorbed orally and is not affected by food intake. The plasma protein binding rate is about
97.5
%, after a single dose
6-12
The blood concentration of the drug reached the peak value in the hour, and the absolute bioavailability was about
64-80
%, the apparent volume of distribution is about
21L
/
kg
The final uneliminated half-life is approximately
35-50
hours, once daily, continuous dosing
7-8
After days, the blood concentration reached a steady state. This product is extensively metabolized by the liver into inactive metabolites, which
10
% to the original drug,
60
% to metabolite excreted by urine.
[Storage
Hidden] Shade off the light and keep it in a sealed and dry place.
.
[package
Pack] aluminum-plastic plate packaging, each small carton containing 14 pieces.
[validity period]]
24
Months.
executive standard]
WS-
(
X-101
)
-2005Z-2016
[Approval No.] Chinese medicine standard
H20020487
【
Drug marketing authorization holder

]]
Name: Zhejiang Jianfeng Pharmaceutical Co., Ltd.
Registered Address: 2nd Floor, Office Quality Inspection Building, X02, No.58 Gaofan Section, Baitang Downline, Wucheng District, Jinhua City, Zhejiang Province
Company: Zhejiang Jianfeng Pharmaceutical Co., Ltd.
ground
Address:
No.58, Gaofan Section, Baitang Lower Line, Wucheng District, Jinhua City, Zhejiang Province
Welcome your message consultation